The sculptural possibilities of organic forms fascinate me, as discussed previously. (Howard, 2020) I considered the works of Henry Moore (Howard, 2019a) and Barbra Hepworth (Howard, 2019b) in relation to these forms previously, but there are many artists working in this area.
Drawings and Maquettes
Art and Artists
As part of thinking about this work I spent some time considering why the organic forms resonate with me as an art form, more than (say) more abstract or linear forms. In doing so, I remembered one of the strong influences on me from Ruskin – of all people. One of the places I've visited many times is Brantwood near lake Coniston in Cumbria. (See https://www.brantwood.org.uk/ for more information.) This was Ruskin's home for many years and, among other things, has many of the natural objects he collected over the years and his drawings of them. Ruskin also set up a craft school, which included wood carving based on these thoughts of art from nature, some of which is available at Brantwood. Rohr (2016) considered Ruskin's philosophy on drawing from nature in her Ph.D. thesis, including many illustrations of his work.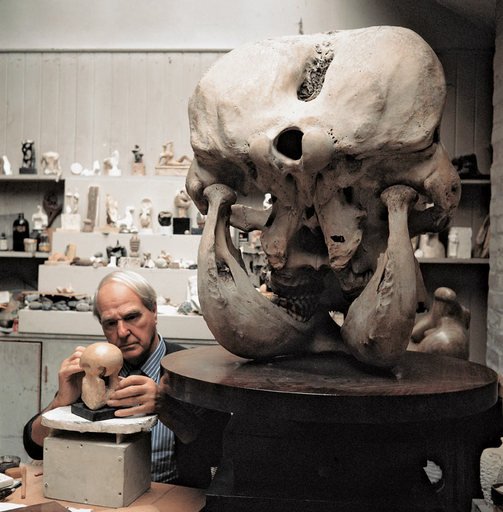 I have found the principles of form and rhythm from the study of natural objects…pebbles and rocks show nature's way of working stone (Moore, 1934)
The work of Henry Moore was similarly inspired by observation of the natural world, as illustrated in the quote by him from the Tate website. I found the image in Fig 2. particularly illustrative of the connection between Moore's collection of natural objects (many of them bones and stones). The work of Andrew Goldsworthy (Howard, 2019) is also relevant in these terms, as he tends to make his sculptural work both within a natural context and from natural materials.
Shell fragment
As an initial idea I decided to fire the piece of shell that I saved from Project 5 (Howard, 2020a). You will see from some of the images that the later works described in this section was completed in parallel with this work. This is necessary when working this way, as the making cycles involve physical processes, such as drying times and firing in a kiln, which mean that making in a linear fashion is very inefficient. I have separated the write up out for convenience of an overall narrative.
I managed to retain the top section of Shell #1 from that work and decided that I would start this part by taking it through to completion using slips, glazes and firing. This also extends the approaches i have used previously, and the work i completed on Meadow Watcher in Project 5. After cutting the top off the shall to save it I tided up the work, dried it and bisque fired it. I decided to decorate it with a series of slips, inside and out, and applied a glaze to the inside to provide a semi-glass finish:
The fired result was interesting:
Since this was a rescued piece of work I concentrated on the finishing, to provide texture and a contrast between the inside and outside of the shell. The idea works, although I'm not convinced by the pink colour as representational of the inside of a shell. The overall effect, however, has some scope for use. I believe the large crack in the base of the shell is caused by issues in the original making process, though it may be caused by the weight of the central column on the much thinner base.
Geodes
The next idea I decided to take forward was based on Geodes. These have a plain rock outside and when broken open have coloured crystals on the inside. A good example is shown in Fig. 1. These are common in mineral shops, and are something that has fascinated me for years.
The idea I decided to progress is based on a pair of simple pinch pots that are joined together. The scale of a pinch pot can vary significantly, but the construction method is fairly simple in essence. Once the two pot halves are joined then the outside can be textured by a series of manipulations, followed by letting the work dry somewhat. Once the work has dried enough to be firm then I cut a set of windows into it to allow the interior to be seen. The windows can also be used to smooth and manipulate the interior if the work.
Once fired the result can be seen here:
It is worth noting that I've put holes in the bottom of the work. This is because I expect them to be displayed in the garden, and it will allow any water to drain out. The next step was to decorate the inside of the works in coloured slips, and the outside in a combination of slips and oxides. Lastly, the inside gets a coating of a semi-matt glaze and the gets glost fired:
The results of this initial run were somewhat successful, though the pink inside with blue brushwork was less striking that I'd hoped for. The mix of oxides and slips on the exterior was good, though it needed to tend towards darker rather than lighter.
I like the way that the concept plays with inner and outer form, creating a much rougher and less finished outer form. This then juxtaposed with a smoother and more colourful inner form to provide a strong contrast. I find the resulting work intriguing, and worthy of further consideration. These pieces are very much intimate in scale, so the next step might be to scale them up somewhat.
Plant form
This piece also follows on from Project 5 (Howard, 2020a), this time the "Organic Form" documented in that article. The basic construction approach was the same, but this time I deliberately scaled down the form somewhat so that I could manage to fire it. When thinking through the new form, therefore, I decided to use a more vertical form – somewhat reminiscent of a pineapple top. The intention was to have something that could be displayed in a garden. As for the geodes, since the piece is intended for the garden there are many hidden holes into the inside of the form. Without this water would collect and freeze, eventually breaking the piece apart.
Once the piece was bisque fired I used slips painted onto the bisque to give the work colour. I decided to have the upper part coloured like a flower in yellow and orange, and then the lower half more leaf like. The colouring was chosen to fit harmoniously in a garden, rather than to be realistically plant like.
The following shows the slip process and the finished work:
There are many aspects of the way the work turned out that I am happy with. The form and colour work as a garden piece. The construction could be more refined and I might have liked the orange edges to the yellow elements to be slightly deeper in colour. Overall, however, the piece work well as I intended it. I like the outward facing aspect of the piece more than the enclosed bud form of the work from Project 5. There is also significant scope for further development of the concept.
Geodes (Part 2)
I was happy with the outcome of the previous work on the Geodes, but wanted to see what else could be done with them on a slightly larger scale. I followed the same basic process as for the small Geodes, but tried to enhance them based on the learning from the smaller run.
The larger scale allowed for more interesting texture and external decorating. It also allowed for more more windows to be cut into the form – which provided scope for better lighting variation in the finished pieces. I deliberately kept the internal decoration relatively simple, and avoided the pink slip. The process and result is shown in the images below.
In the following image I've show a collection of the large and small Geodes in a garden setting:
Conclusion
I decided to leave this series here. The Plant Form and Geodes both come over well as organic forms, and they have been successful within my intention for their creation. There is plenty of scope left in these ideas to develop in the future, and I feel that it would be worthwhile to do so. The concept of the shell also has significant scope for further development, and could form a series of works in its own right.
List of Illustrations
Fig. 1. Barker, G. (2019) [Photograph] Ruskin, J. (s.d.) Drawing of oak leaves [Photograph]. At: https://fineartdrawinglca.blogspot.com/2019/12/john-ruskin-and-elements-of-drawing.html (accessed 16/04/2021)
Fig. 2. Jackson, E. (1970) [Photograph] of Henry Moore working on the maquette for Atom Piecem alongside an elephant's head at his studio in Much Hadlam 1970 from Causey, A. (2010) His darkened imagination, Henry Moore. At: https://www.tate.org.uk/tate-etc/issue-18-spring-2010/his-darkened-imagination (accessed 16/04/2021)
Fig. 3. Wikipedia (2021) [Photograph] The inside of a large geode lined by amethyst crystals. At: https://upload.wikimedia.org/wikipedia/commons/thumb/6/62/WLANL_-Urville_Djasim–Geode_amethist–Amethyst_geode%282%29.jpg/330px-WLANL_-Urville_Djasim–Geode_amethist–Amethyst_geode%282%29.jpg (accessed 31/03/2021)
Bibliography
Howard, D. (2019) Andrew Goldsworthy's Pinfold. At: https://david515893s1.wordpress.com/2019/08/13/andrew-goldsworthys-pinfold/ (accessed 16/04/2021)
Howard, D. (2019a) Henry Moore (1898-1986). At: https://david515893s1.wordpress.com/art-and-artists/henry-moore-1898-1986/ (accessed 12/12/2020)
Howard, D. (2019b) Barbra Hepworth (1903-1975). At: https://david515893s1.wordpress.com/art-and-artists/barbra-hepworth-1903-1975/ (accessed 12/12/2020)
Howard, D. (2020) Considering part 5. At: https://david515893s1.wordpress.com/2020/12/13/considering-part-5/ (accessed 13/03/2021)
Howard, D. (2020a), Project 5 Clay modelling. At: https://david515893s1.wordpress.com/2020/05/26/project-5-clay-modelling/ (accessed 24/03/2021)
Moore, H. (1934) Statement for Unit One in Herbert Read (ed.), Unit One: The Modern Movement in English Architecture, London 1934, pp.29–30, in Henry Moore: Sculptural Process and Public Identity, Tate Research Publication, 2015, https://www.tate.org.uk/art/research-publications/henry-moore/henry-moore-statement-for-unit-one-r1175898, accessed 16 April 2021.
Rohr, D. (2016) Drawing on nature: the legacy of Ruskin's moral cosmos. PhD thesis. At: https://eprints.lancs.ac.uk/id/eprint/82473 (accessed 16/04/2021)