Body of Work
These works are documented, including sketchbooks, drawings and images of their production, in the following articles:
Critical Appraisal
In considering my approach to studying for and producing the work for Part 5 I made some clear decisions on the approach I wanted to take. (Howard, 2020) In essence these decisions meant that I had objectives to improve my process for developing work; focus on investigation rather than the production of end pieces; and be more explicit about my influences and choice of forms in writing up. In addition to this, my tutor proposed that I should ensure that I "maintain room for the unexpected and keep fluidity within your process to allow things to appear and change." (Thompson, 2021:5)
I settled on developing working with ceramics as a material but ensured that the works were taken through to fired pieces rather than simply creating the form in clay. This is a significant extension from the work of Project 5 (Howard, 2020a) due to the additional challenges of firing, colouring and glazing ceramic work. In this the work was successful with all pieces completed through to glost firing and only one of them showing any cracking. In focussing on ceramic techniques I was drawing on previous learning from Annie Peaker (Howard, 2017).
I started the part based on the form of a raven. In researching the raven-based works I looked at a range of different cultural contexts and styles of work, including native American to Scandinavian. (Howard, 2021) The raven works rely heavily on the drawing and measurement approaches used to consider raven proportions documented in that section, which is itself based on approaches I was shown working at the Geisler-Moroder woodcarving school. (Geisler-Moroder, 2021) I feel there is significant scope for further development of the theme in the future and expect to be able to develop further investigations in this direction.
As part of thinking about this work I spent some time considering why the organic forms resonate with me as an art form, more than (say) more abstract or linear forms. In doing so, I remembered one of the strong influences on me from Ruskin. One of the places I've visited many times is Brantwood near lake Coniston in Cumbria. This was Ruskin's home for many years and, among other things, has many of the natural objects he collected over the years and his drawings of them. Ruskin also set up a craft school, which included wood carving based on these thoughts of art from nature, some of which is available at Brantwood. Rohr (2016) considers Ruskin's philosophy on drawing from nature in her Ph.D. thesis, including many illustrations of his work.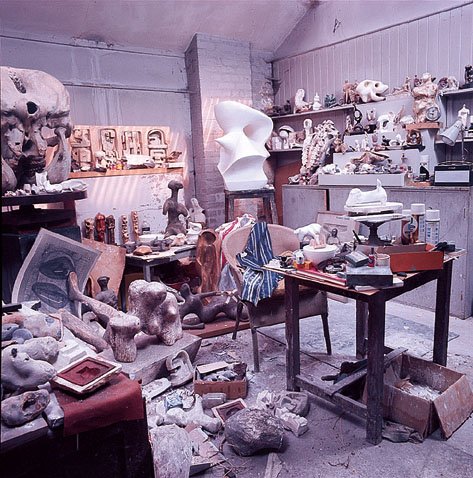 The work of Henry Moore was similarly inspired by observation of the natural world, as illustrated in the quote by him from the Tate website: "I have found the principles of form and rhythm from the study of natural objects…pebbles and rocks show nature's way of working stone" (Moore, 1934) I found the connection between Moore's collection of natural objects (many of them bones and stones) instructive, and it parallels the thoughts of Ruskin. The work of Andrew Goldsworthy (Howard, 2019) is also relevant in these terms, as he tends to make his sculptural work both within a natural context and from natural materials.
This is the context into which the Organic Form work (Howard, 2021a) fits. The shapes and forms are strongly derived from nature. They are not intended to be exact reproductions of objects from the natural world, more abstractions of or creations inspired by such. These works are based in previous experimentation, and in the drawings and observations I have been making during the course. They are not, however, compositions directly produced from drawings and are more experiments and developments from the drawings and concepts that I have been working with. In essence they flow from this work rather than being produced directly of it. My tutor encouraged me to allow for a level of fluidity and experimentation in my work (Thompson, 2021) and I feel these works achieve this.
There is a way to go before I would consider them finished works. The plant form, for example, is probably too weak to be a garden sculpture. They are, however, something I would consider to be a development in the right direction for my work and could be developed into a significant element of an on-going practice. They have an art context and are intended to fit in specific display setting.
The move to "Into each life" was an extension of the organic form work, and in other ways a development into expressing my feelings over current pandemic. The work stays within the idea of stylised natural forms but seeks to express the unsettling despondency of current events. As with other works in this part, there are significant technical lessons from the making process that I need to reflect on and develop solutions to whilst also representing a step forward in my working with ceramics. The finish could be improved, and the hanging spiral should have been bigger to allow a more expanded drop pattern. That said, the finished work fits what I was trying to achieve. The process of considering it and making it has also led me to other ideas that I can develop with quite different forms but a similar feeling. This concept of trying to embody emotional reactions within a work is also worthy of significant inquiry for my practice in the future – whether explicitly, like this one, or more implicitly like the ravens and organic forms.
(910 words)
List of Illustrations
Fig. 2. Brantwood (2021) [Photograph] The Treasury, The John Ruskin Mineral Collection. At: https://www.brantwood.org.uk/thetreasury/ (accessed 18/04/2021)
Fig. 2. Hedgecoe, J. (1986) Henry Moore's maquette studio at Hoglands, Hertfordshire, as he left it on his death in 1986 [Photograph] from Tate (2021) Henry Moore's sculptures. At: https://www.tate.org.uk/art/artists/henry-moore-om-ch-1659/henry-moores-sculptures (accessed 18/04/2021)
Bibliography
Geisler-Moroder (2021) Austrian Woodcarving School. At: https://www.woodcarvingschool.com/ (accessed 13/04/2021)
Howard, D. (2017) Annie Peaker Course. At: https://david515893.wordpress.com/2017/06/05/annie-peaker-course/ (accessed 14/04/2021)
Howard, D. (2019) Andrew Goldsworthy's Pinfold. At: https://david515893s1.wordpress.com/2019/08/13/andrew-goldsworthys-pinfold/ (accessed 16/04/2021)
Howard, D. (2020) Considering part 5. At: https://david515893s1.wordpress.com/2020/12/13/considering-part-5/ (accessed 05/04/2021)
Howard, D. (2020a) Project 5 Clay modelling. At: https://david515893s1.wordpress.com/2020/05/26/project-5-clay-modelling/ (accessed 13/04/2021)
Howard, D. (2020b) Research point: Clay. At: https://david515893s1.wordpress.com/2020/03/10/research-point-clay/ (accessed 14/04/2021)
Howard, D. (2021) Raven. At: https://david515893s1.wordpress.com/2021/03/28/raven/ (accessed 05/04/2021)
Howard, D. (2021a) Organic form. At: https://david515893s1.wordpress.com/2021/03/28/organic-form/ (accessed 05/04/2021)
Howard, D. (2021b) Into each life. At: https://david515893s1.wordpress.com/2021/04/03/into-each-life/ (accessed 05/04/2021)
Moore, H. (1934) Statement for Unit One in Herbert Read (ed.), Unit One: The Modern Movement in English Architecture, London 1934, pp.29–30, in Henry Moore: Sculptural Process and Public Identity, Tate Research Publication, 2015, https://www.tate.org.uk/art/research-publications/henry-moore/henry-moore-statement-for-unit-one-r1175898, accessed 16 April 2021.
Rohr, D. (2016) Drawing on nature: the legacy of Ruskin's moral cosmos. PhD thesis. At: https://eprints.lancs.ac.uk/id/eprint/82473 (accessed 16/04/2021)
Thompson, A. (2021) Formative feedback, dated 25/01/2021. [Attachment to Assignment 4 feedback email sent to Howard, D., dated 29/01/2021]