As with some of the previous research items of the course this is a fairly open research brief, though the context of Clay Modelling limits the scope of the research somewhat. I have approached it as a consideration of sculptural technique and the range of work possible with clay.
Donatello (c.1386–1466)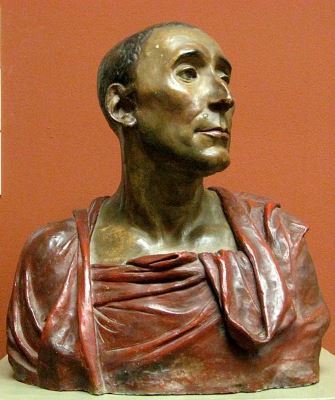 Donatello will have made extensive use of clay in his work, though much of the clay work he produced will be visible now as bronze sculptures. The V&A website discusses (V&A, 2020) the tradition of Italian Terracotta Sculpture in the context of Donatello and others. They assert that Terracotta figures, like that in Fig. 1., were used as a cost effective alternative to completing works in more expensive materials.
Whether created as part of the production process for a bronze, or to provide a cheaper alternative for a portrait the use of clay in sculpture at this point was extensive. There doesn't seem to be a readily available document of how Donatello would have worked with clay, but the most likely approach is that a solid form would have been made on an armature and then hollowed out. Its likely this would have been performed by slicing into the work, hollowing it and then putting it back together with slip. Some Terracotta Sculptures have an open back, which allows you to see the marks left by the hollowing process.
Continue reading

"Research point: Clay"